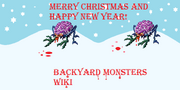 I made a logo for the Winter season, Just like the Halloween Logo, It was based on "Brain Freeze" on Winter.
Tell me suggestions and what you think about it.
I updated it....
I also added the concept of a Brain that froze itself to go to the future.
I updated it...again...I changed the concept to a bolt being Santa because Bolts are great looters, second to brains.

Ad blocker interference detected!
Wikia is a free-to-use site that makes money from advertising. We have a modified experience for viewers using ad blockers

Wikia is not accessible if you've made further modifications. Remove the custom ad blocker rule(s) and the page will load as expected.