I think it may be a good idea to start a massive renovation to our wiki. The list of things needed for improvement will be stated below:
1. Getting rid of vandalizers:
As we all know there were an army of vandals who came to this wiki to vandalize Krallen as many people rely on that page. I tried to undo their efforts but they just keep on coming back! To slow them down we may want to do these:
Monitor the Recent Activity more often (to users, admins can consider attending to their duties)

To do so easily open the Recent Activity Page in one tab, and reload it every 1 minute or so.

Consider locking extremely important pages and only availing it to admins.
2. New homepage and/or improved portals
Doing this may make this wiki not only look great, but also let anonymous users(wikia contributors) navigate better.
Plans:
The homepage will have two separate pictures, Inferno and Overworld and in its sides it will show a selection of items like monsters, buildings, strategies/tips, etc.
Link the buttons to their respective categories.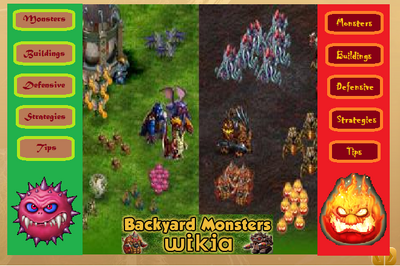 Sorry for the kind of bad quality though, because I used Paint and I dont have other editing software.
3. Filling the empty space with something
The empty space is shown below.
Its encircled in red. We should use it for either local time in our areas (its possible) or simply time in San Fransisco. (Kixeye is located there so Kixeye time :D)
(Involving 2)
If an admin/user skilled in Photoshop or whatever good editing software sees this, please make a Message on my Message Wall to give me the picture and I will change the current navigation plan.
4. Discussion/s of the Week
I'm sure that this can be a kind of good thing to put in our Homepage. This would be a page and we will put a monster and how to use that monster effectively and its strengths and weaknesses, or a tower and that certain towers strengths and weaknesses. This will be put above the poll as a template. Example of this shown below:
Discussion of the Week
An inferno monster, similar to Pokey. Taking only 15 spaces and a stronger than its Overworld counterpart, this is a good monster for some attacks.
Strengths and Weaknesses
Alone this monster cannot devastate. But it has a quite good use in massive numbers. Strategy can easily make this of maximum use. Along with a tank, preferably Zagnoid, this monster will devastate and Zagnoid takes damage.
Good for...
Planned Attack
Best against:
Sharpshooters/Sniper Towers__________________________________________________________________
These can be good additions to the wiki. So put comments and tell me your opinions!
Admin Approved Additions
Addition 4 has been approved by -xKevin- and will be added as Template:Portal/Component/WeeklyDiscussion (put above the poll) and another template in the discussed page.(Will be made on Monday probably around June 2012)
Ad blocker interference detected!
Wikia is a free-to-use site that makes money from advertising. We have a modified experience for viewers using ad blockers

Wikia is not accessible if you've made further modifications. Remove the custom ad blocker rule(s) and the page will load as expected.