Map
Talk

0
433pages on
this wiki
General Information
Edit
The Map is a display of the area around a player's base or outpost. It can be used to view and attack other players. It can also be used to help friends in building upgrades.
The map can be accessed through the Map Room, Catapult, Flinger or Chaos Factory.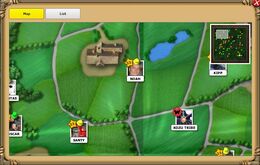 The Map is the first map you may enter upon building the Map Room (level 1). It has a very basic premise; you may select the names of others to attack, view their yard, message, or make truces with them. There are no Outposts, with the only real objective being to attack others.
You can also change the Map to its "list" form. While in list form, it will show all the players on your map in a list, organizing them by the amount of conflicts you have had, and if you are friends. Players that are online have a green circle next to their picture, and cannot be attacked until they exit Backyard Monsters.
You may only attack people that are near to/above the level you are at. Lower-level players can still attack you even if you're a higher level than them, which activates vengeance. When vengeance is enabled, you may attack the lower-leveled player who attacked you as many times as they attacked you (eg. a level 20 attacks a level 26 player 3 times, the level 26 player may attack them 3 times).
It should be noted that all friends who still have the Map Room 1/no Map Room will always appear on your World Map 1.
Map Color Denotations
Edit
Yellow: General players
Green: Friends
World Map
Edit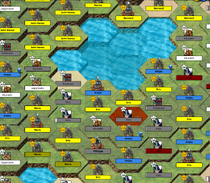 Once you have upgraded your Map Room to level two you will be spawned in the World Map, and your position in the original Map will disappear. Once you spawn in the World Map, you will be placed in a random server, meaning that you may not be placed anywhere near friends or enemies.
The primary objective of the Map Room is to destroy and take over Outposts and accumulate Empire Points. Taking over outposts increases your resource capacity and grants you Empire Points. They can also generate and auto-bank resources should you build harvesters.
Additionally, the ability to join alliances is unlocked upon entering the World Map. Any empire points you have will contribute to the overall amount of empire points in your alliance, allowing it to climb higher on the leaderboard.
World Map Color Denotations
Edit
General
Blue: Your yard (or outpost)
Dark blue: Destroyed yard/Outpost that belongs to you
White: Wild Monster and player yards that are not part of an alliance
Dark red: Destroyed Wild Monster or player yards (more than 90% damaged)
Green "tick": Player who you currently have a truce with
Alliance
Yellow: Players in a neutral alliance
Light blue: Members of any alliance you are in
Red-orange: Players who are in an alliance flagged as an enemy by your alliance leader
Green: Players who are in an alliance flagged as an ally by your alliance leader.
World Map v3 (MR3)
Edit
A new world map has been developed and recently released by kixeye with the purpose being to bring more strategy to Backyard Monsters. Rather than simply taking over several general Outposts that always give you extra capacity, housing, and resource production, the goal will to be taking over key points in the map to become stronger. It's been confirmed that Goo will be used to repair the monsters that come back home with you.
New features include:
New strategic Outposts that increase your housing capacity
New Resource Producing Outposts will be available that produce and auto-bank resources to your Main Yard
Monsters, from your main yard, don't die, and will instead return to your yard to be "repaired" (using Goo), and outpost monsters will die permanently.
Permanent residence: you can't return once you move there.
Some features removed:
Starter Kits
Outposts unbuildable but buildings already in place on the outpost with differing amounts/leveled buildings according to the level of the outpost and in various places on the map (if you know what it means).
For more info, check out the forum post detailing the changes.
Map (Inferno)
Edit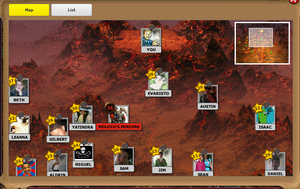 The Inferno Map is the special map exlusive to Inferno. Whilst its appearance is different, the Inferno Map is essentially the same thing as the original Map.
Interestingly, any players that are near you in the World Map will be shown on your Inferno Map. Relocating or recycling and rebuilding will cause any players that come within range or go out of range to appear/disappear from the Inferno Map.
Additionally, your yard will always appear to be on the top of the plateau, though it will be placed randomly on the Inferno Maps of others.
At the moment there is only 1 Map in Inferno, but there are images of what appears to be an Inferno Outpost, which may hint at the release of a World Map in Inferno.