This page is a part of:
Basic Information
More details of how to obtain the expansion yard can be found at Inferno Cavern
Upon destroying the last of Moloch's main yard, you will gain access to a yard of your own inside Inferno, adding on with one red, grumpy worker.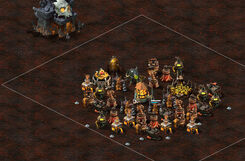 The Inferno Yard sports similarities towards the Overworld yard, with the exceptions of the barren brown stones instead of the lush, green grass as your grounds. Resources here are the counterparts of the ones at overworld (Bones is the counterpart of Twig, for example). Similarly, several buildings have similar functions, like the Pod acting like a Silo, whereas there are a few buildings that functions as more than one (Compound functions as all three Housing, Monster Bunker and Flinger).
Buildings
The following buildings can only be built inside Inferno Yard, with exceptions of Magma Tower and Quake Tower.
The following can only be built on the Overworld Yard, but requires the resources here.
Building's

Name

Maximum number of times they can be built (with level 6 Under Hall)
Minimum Under Hall level required
Chaos Lab
1
1
Chaos Factory
1
1
Magma Tower
2
1
Quake Tower
4
1
Trivia
You cannot get more than one Worker at the moment.
Ad blocker interference detected!
Wikia is a free-to-use site that makes money from advertising. We have a modified experience for viewers using ad blockers

Wikia is not accessible if you've made further modifications. Remove the custom ad blocker rule(s) and the page will load as expected.