You can make your Monsters and Inferno Monsters (via Transfer monsters) nearly invincible by following this guide.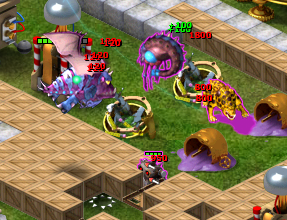 Needed Items
First you need 10 Million Putty for Putty Rage,a level 6 fully fed Fomor, and to get more loot on a level 5 Krallen with all buffs.
How To Do It
First find a target yard, next fling in the monsters of your choice, Fomor, then Krallen and catapult the ten million putty rage on them after this you can just watch how the yard gets destroyed.
Used For The Monster Bunker
You can also use this for the Monster Bunker with the exception of no putty rage. You can test this method by using the Wild Monster Baiter but however, you must have a Fomor to make this test. This required any level of Fomor (Recommended if Level 4+) because the champion, Fomor, only have the buff ability (excluding Krallen on the Monster Bunker tip).
Best Bunker Combos
You can go to Monster Bunker/tips.

Ad blocker interference detected!
Wikia is a free-to-use site that makes money from advertising. We have a modified experience for viewers using ad blockers

Wikia is not accessible if you've made further modifications. Remove the custom ad blocker rule(s) and the page will load as expected.