General Information
D.A.V.E. Club was introduced on Wed. 20th June 2012. Its a part of monthly subscription for $9.95 per month which must be paid via Credit Card/Paypal, giving you some advantages in game on subscription. Once the notification has been sent to your account, a red button will always be present below your resources bar (or your outpost bar, if you are on Map Room level 2).
If you have purchased the subscription, the text on the red button turns from white to gold.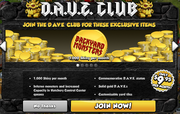 Advantages in D.A.V.E. Club
The following features are available when you subscribe to this monthly service:
You will get 1,000 free Shiny monthly.
All of your D.A.V.E.s are colored gold if you choose them to be. You will also obtain a large gold D.A.V.E. statue to signify your membership.
Overworld Main yard's tiles can be customised to your own fitting with total choices of up to 8 types (including the moon tiles).
Hatchery Control Center will be able to produce Inferno Monsters (at the cost of Magma), and contain a gold background surrounding the queue box. 10 more monsters of one type can be queued inside, totaling 30 single monsters per box rather than the usual 20.
Bugs and glitches
A great majority of the players did not get the D.A.V.E Club tab and are not able to subscribe as that is the only mode of payment. (*FIXED* After a recent update at Faceboook, everyone now has a D.A.V.E. Club tab under their

resources bar

(or outpost bar on Map Room level 2) that allows them to purchase D.A.V.E. Club membership at any time.)
As of current, other players cannot see the subscriber's customized yard tiles and the solid gold dave. They can only see the D.A.V.E. statue (if placed), and whether if any inferno monsters are coming out from the Hatchery (If they are currently under production).
Gallery
Ad blocker interference detected!
Wikia is a free-to-use site that makes money from advertising. We have a modified experience for viewers using ad blockers

Wikia is not accessible if you've made further modifications. Remove the custom ad blocker rule(s) and the page will load as expected.