Big Ben is a gigantic decoration item that can be found and purchased at the Special decoration tab with 500 Shiny. All the decorations that can be purchased with 500 shiny are the biggest things in the game, perfect for hiding Defensive Towers. Having this statue in a yard generally means they buy shiny.
With Introduction to D.A.V.E. Club, Big Ben, along with other 'Special' Decoration, have been given a lighter variation of Gold.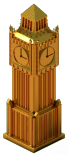 Ad blocker interference detected!
Wikia is a free-to-use site that makes money from advertising. We have a modified experience for viewers using ad blockers

Wikia is not accessible if you've made further modifications. Remove the custom ad blocker rule(s) and the page will load as expected.